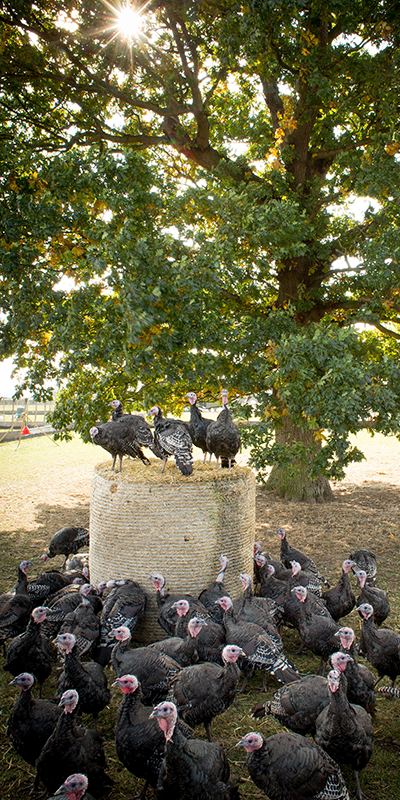 About Us
Bridgers is an established family run Farm, nestled on the outskirts of Hurstpierpoint, beneath the South Downs in the heart of Sussex. Bridgers Farm has been rearing Turkeys for over 30 years and our mission is to ensure that all our birds lead a happy, healthy life.
We raise traditional bronze and white farm fresh turkeys including both free range and barn reared. We pride ourselves on caring for our birds in outstanding welfare conditions and in recognition of this we are proud to have sustained the Golden Turkey quality standards kite mark for the past 12 years for our Free Range Turkeys.  There is no other Turkey farm in Sussex with this quality standard and it is the opinion of our customers (see some of our reviews here) that you simply will not find a better tasting bird!
Many of our customers have been with us since Bridgers Farm opened its doors over 30 years ago and our aim is simple, to keep them (and you!) coming back each time you have a celebration and in particular for your big day at Christmas. 
Christmas begins when you pick up your Turkey! So we ensure a festive atmosphere on the Farm, with Christmas music, mulled wine, tea & coffee, mince pies as well as sweets for the children!
Anthony Harris
Our birds are cared for and pampered by Anthony Harris and his expert team. Passionate about promoting healthy eating, he has appeared on television, radio and a broad range of broadcasting platforms, if you'd like to find out more about Anthony and his team please get in touch, he'd be happy to help! 

Bridgers Farm is proud to be the only accredited Free Range "Golden Turkey" producer in Sussex
When you order a Free Range "Golden turkey" you can be sure of the tastiest possible Christmas meal!
The Golden Turkey 12-point Quality Assurance Code guarantees our turkeys are:
Reared and produced with the greatest care by independent farmers, dedicated to producing the finest turkeys

Grown slowly to full maturity

Fed rations containing at least 70 per cent grain with no animal protein and never given additives for growth promotion

Never given antibiotics except as prescribed by a vet

Free Range Turkeys have open daily access to grazing for at least 11 weeks

Always handled with extreme care by experienced staff under the personal supervision of the farmer

Regularly bedded with comfortable straw or soft wood shavings

Grown on farms independently inspected to ensure qualification for the 'Golden Guarantee'

Slaughtered on the farm to avoid the stress of long distance transportation

Always dry plucked and hung for at least seven days to mature and develop the natural flavours unique to this traditional type of production

Processed in facilities inspected by the local Environmental Health officer or Meat Hygiene Service

Supplied with a money-back guarantee in the unlikely event of customer dissatisfaction